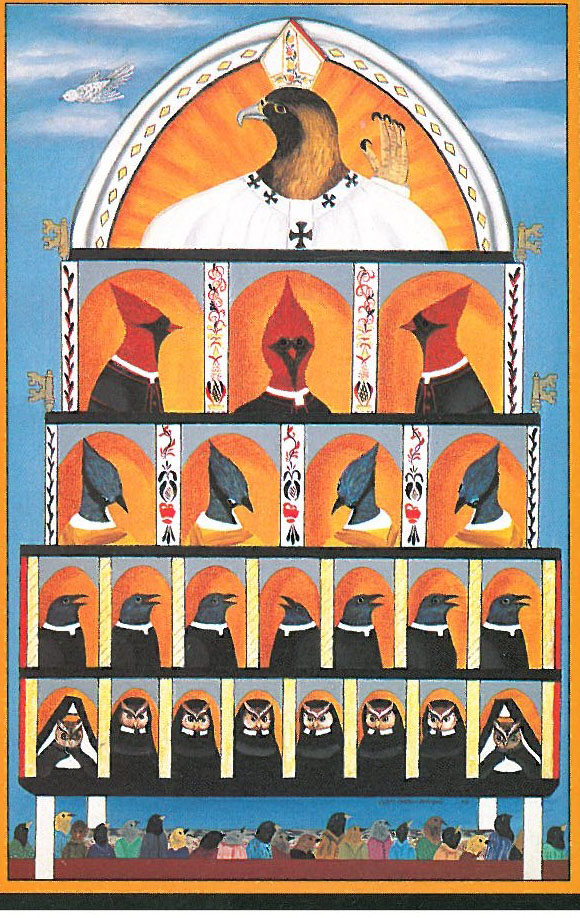 oil/acrylic on canvas – 36″ X 24″
This painting was inspired by Otto Preminger's movie The Cardinal starring Tom Tryon, produced by Gamma Films in 1963.
The most accepted recognized order suggests the Golden eagle as the Roman figurehead with the cardinals in charge. All except the cardinals are birds of prey.
Judith Carlson-DeAngelo's vibrant original art explores a vast array of subjects dealing with the entertainment world. Her work is on exhibition at the Hargis Unique Art Gallery owned by Bobby-Lou Hargis, Picasso's niece, located at 535 South Corona Mall, Corona, CA. Tel (909) 372-0077.
As a celebrated award-winning artist she is the recipient of an Award of Excellence in the 1998 Manhattan Arts International Competition.
Judith is offering limited edition prints of her work, with 20% of the proceeds to be donated to benefit the charity of the buyer's choice.