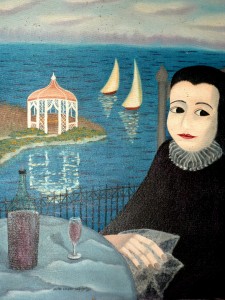 Judith's paintings are available for purchase online Bethel Woods Media.
Dimensions: 16in X 20in
Medium: Oil on Canvas
This work was painted in 1992 by Judith Carlson-DeAngelo
JUDITH CARLSON-DEANGELO (July 17, 1944 – Feb. 2, 2015) was a professional artist whose representational style captures the inner spirit as well as the outer form of her subjects. A skilled portrait painter, she has produced numerous works for theatrical personalities, including pieces in the collections of the mother and daughter of comedian Lenny Bruce and featured in the New York Times. Combining stylistic elements of both abstraction and surrealism, Ms.Judith Carlson-DeAngelo's paintings have been exhibited at the Museum of Modern Art of Miami, Florida, and the Redding Museum of Art and History in California and have received awards at the Redding Museum and the SoHo International Competition in New York City.
Inspired by the surrealistic work of Salvador Dali, each of Carlson-DeAngelo's richly-hued multi-chromatic concept paintings tell a story and impart a meaningful message of social values and lifestyles.
Her works have been featured in many prominent collections:
Carole Costello, daughter of comedian Lou Costello, who paid $2 million for "Who's on First", in a charity auction for Saint Jude's Children's Hospital in Tennessee.
CNN anchor Anderson Cooper, who paid $1 million at a Saint Jude auction for "One For the Angels", a painting inspired by a Twilight Zone episode starring Ed Wynn
Author Alex Haley, who paid $1 million to Saint Jude for "Epicurean"
Kitty Bruce, daughter of comedian Lenny Bruce, and Sally Marr, his mother
Nashville record producer William 'Buddy' Killen, who paid $30,000 in a direct purchase for "Last Call", which hung for many years in his Stock-Yard Restaurant
Judith's paintings are available for purchase online Bethel Woods Media.