There's never been a more critical time to support local public broadcasting. In return for a $50 donation to WJFF radio in Jeffersonville, NY, one of only two hydro powered radio stations in the hemisphere, Entertainment Plus Creations is offering $100 worth of items on our Judith Carlson-DeAngelo VIDA design collection page. Visit the station's website to donate online and claim your stuff or call (845) 482-4141. Only one available.
Kathy Geary wears her Grand Central Watch essential top as she DJs Now and Then, which airs from 3-4 p.m. EST each Saturday on WJFF Radio, a hydropowered station opperating out of Jeffersonville, NY.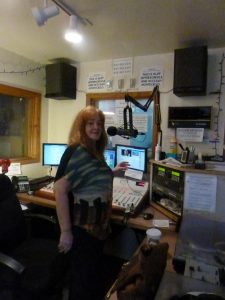 In addition to  her show, which highlights the past and recent contributions of singer-songwriters, aficionados know her for her commanding soprano performances at the Delaware Valley Opera and other venues worldwide and cabaret performances in NYC and Upstate New York. Entertainment Plus Creations followers have heard her on the piano accompanying tenor Kevin Hanek as he sang the Kol Nidre, a sacred Jewish prayer, as part of the Al Jolson Project. Grand Central Watch is one of the paintings produced during the lifetime of artist Judith Carlson-DeAngelo, who left behind a great body of evocative work when she passed on in 2015. You can buy this top and other items (tops, tote bags, and even a surrealistic pillow) derived from this work by visiting Judith's VIDA Design Collection page.