By Ed Zwirn
New York Post, June 25, 2017
The brick-and-mortar grocery store isn't going away anytime soon.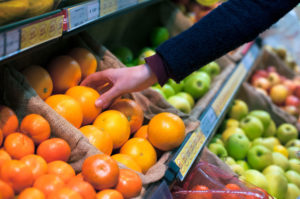 Amazon's recently announced $13.7 billion purchase of high-end grocer Whole Foods notwithstanding, e-commerce has been much slower (so far) to break into the supermarket business than into other sectors of the economy.
Only 7 percent of US consumers shopped online for groceries in the past month. Those who either tried and quit e-shopping or avoided doing so in the first place cite a number of reasons, the top one being that they want to pick out their own fresh items, according to a report issued last week by The NPD Group.
In fact, Amazon, through its Amazon Prime platform, already dominates this small slice of the food pie, accounting for more than half (52 percent) of online grocery shoppers.
But despite the barriers to adoption, online grocery shopping is set to grow at a faster rate than areas of cyber commerce pioneered earlier.
Some 20 million consumers — new, current or lapsed online grocery shoppers — plan to increase their virtual shopping for foods and beverages over the next six months, according to the NPD Group report.
"Brick-and-mortar stores aren't dead, they will just need to step up their game," says Darren Seifer, NPD food and beverage industry analyst. "There will continue to be a large percentage of the population who will prefer to shop at brick-and-mortar grocers."
At the same time, the supermarket industry itself is facing challenges, as companies like Kroger post disappointing earnings and the prospect of price wars looms with the entrance of Germany's Lidl, which plans to have 100 stores in the US by this time next year, and the expansion of discount stores like Aldi, which plans 2,500 stores by 2022, up from 1,600.
Even Whole Foods has been feeling the pinch. The company reported on May 10 that comparable-store sales were down 2.8 percent for its fiscal second quarter.
But despite these challenges, Amazon's move into the grocery business is "a 'win-win' for both Amazon and Whole Foods," says David Livingston of DJL Research.
For one thing, Whole Foods, being a purveyor of pricier organic food products, tends to serve the relatively affluent and be located in more well-to-do neighborhoods. "You've got some prime real estate," Livingston says. "They don't take the B and C locations, they get the A locations."
Those prime locations will not only add to Amazon's balance sheet, they also have the potential to significantly boost other segments of Amazon's business.
"Amazon only has about 100 distribution centers in the US. This will bring it to 560," says Phil Lempert, the self-proclaimed "Supermarket Guru." "About 90 percent of Amazon Prime shoppers live within 10 miles of a Whole Foods store, and that's also a big plus."
Lempert envisions a "click-and-collect" setup in which customers can do their shopping online and pick up their purchases on the way home from work.
"Amazon lockers can be put in every Whole Foods store," he says, enabling these same customers to pick up their other Amazon purchases and skip both the two-hour delivery windows and the delivery charges as well.
"The reaction from the industry has been, 'Wow, no one saw this coming,' " he says.