By Ed Zwirn
New York Post, July 9, 2017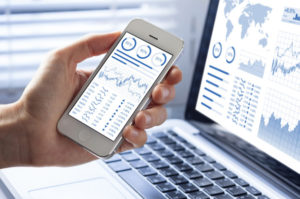 Small investors are piling into stocks at a frantic pace — the event that allows veteran Wall Streeters to call a top of the market.
These individual, or retail, customers invested a net of more than $1.8 billion in US equity funds during the week ending June 28, the first positive reading this indicator has seen since Nov. 4, 2015, when it weighed in at more than $2 billion, according to a report issued by EPFR Global.
At the same time, the "smart money" reached the opposite conclusion, with institutional investors taking $7.6 billion out of US equities during the same week in June.
Many aging retail investors withdrew a net of $65.9 billion from equity funds during the first half of the year.
Weekly retail flows into US equity funds are almost never positive — making the $1.8 billion figure more of a standout — because baby boomers have been withdrawing their proceeds as they age, according to Cameron Brandt, EPFR Global director of research.
"As has been the case in recent years, the thawing of retail sentiment has been viewed as a sell signal by institutional investors," says Brandt.
"We are lowering our recommendation on US equities to neutral as valuations are expensive," Nanette Abuhoff Jacobson, global investment and multi-asset strategist at Wellington Management, which manages more than $1 trillion of client assets, announced on June 23.
"In equities, we favor Japan over Europe, and Europe over the US," she wrote, citing slowing US economic growth figures and lack of progress on tax reform and other Trump Administration initiatives.
"We're cautious but not necessarily bearish," says Roger Aliaga-Diaz, chief economist, Americas, at Vanguard, which has about $4 trillion under management. "We forecast a 5 percent to 6 percent growth rate for US stocks over the next few years. That's lower, but not necessarily pessimistic."
That's a bit of a pullback from the 10 percent average over the last six years.
"Fund flows are always something we watch, but at the end of the day, it's what happens to the economy and earnings growth that will determine whether these (retail) investors are right," he says.
"We don't expect a sharp correction because we don't buy into these overvaluation arguments," says Aliaga-Diaz, adding that valuations are consistent with the current low-interest-rate environment.
"Our view is that the Fed will tighten, but they're going to do it very gradually, bringing the Fed funds target to 2 percent to 2.5 percent at the most this time, which is still historically low."
Michael Arone, investment strategist at State Street Global Advisors, which has a portfolio totaling about $2.4 trillion, says that "the ongoing turmoil in DC" and concern over fiscal and monetary policy have caused him to be "a bit more cautious on stocks."
But, Arone says, his caution on stocks has not turned into more dire bearishness, noting that the market has not seen the types of sharp daily or weekly corrections that normally precede a market meltdown and that real interest rates are still below the level of inflation, making them effectively "negative rates," which means capital in equities is still being rewarded better in stocks than other asset classes.
"A lot of the gains have already been made," he adds. "This bull market's getting old, but we don't expect a correction."