By Ed Zwirn
New York Post, Aug. 13, 2017
Lisa Salzer, who opened her first Lulu Frost store on Prince Street in July, is one of the latest entrepreneurs to go brick-and-mortar in the city — and so far, she says, "I love it."
Salzer, a jewelry designer who started her Lulu Frost online 14 years ago, met up with floral designer Tess Casey when the two did the flowers and jewelry for the 2006 movie "The Devil Wears Prada."
She enlisted Casey to install a flower bar in the Nolita store, and together they provide a unique interactive experience in which customers can design their own floral arrangements and create do-it-yourself custom jewelry.
Even though times are changing as bad news piles up for retailers, Salzer sees opportunity.
"It's such a tough time in retail right now and I think it's a great moment to break with the old," she says.
Succumbing in part to pressure from e-commerce, big retailers such as Sears, Payless Shoes, Radio Shack and The Limited are either folding, or cutting back their number of outlets significantly.
More than 300 retailers have filed for bankruptcy so far in 2017, and by year end, store closings are projected to hit 8,640 — greater than all the reported closures from 2003 to 2006 combined, according to a report compiled by Fit Small Business, an online retail-sector trade publication.
"The retail apocalypse seems to be in full swing in 2017," wrote Krista Fabregas in the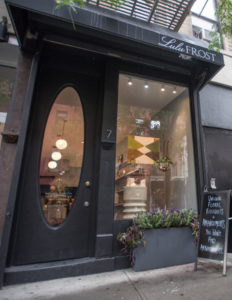 report, issued last week.
But the apocalypse, if that's what it is, has hit the big boys much harder than smaller retail concerns, and the demise of the big-box stores is as much due to the growing tendency of consumers to shop small and local as it is to the internet.
"The spending shift from large retailers to small businesses has been spurred by the latter's ability to deliver prompt and personal services," says Fabregas, pointing out that 7 out of 10 millennials claim that purchasing American-made products is important to them, and 40 percent say that they prefer to shop at local stores even if they spend more.
"Sears sold the Craftsman brand, so there's not a lot of reason to go to a Sears anymore," says Brent Wilsey of Wilsey Asset Management, a San Diego firm that manages about $200 million. "You've got to have a unique experience whether you have one store, five stores or 500 stores."
Rent the Runway CEO Jennifer Hyman says her business has been up 100 percent since she opened her flagship store on West 15 Street in Manhattan. Visiting her stores, which feature more than 500 designer brands, closet-space-challenged customers — availing themselves of what she calls her "fashion subscription model — can secure four-day rentals on dresses for as little as $30.
Alternatively, time-challenged customers, for a delivery charge of $9.95, "can sit in their office and request items to be delivered within three hours."
Hyman also touts the in-store experience, which features fashion and fitting consultants, as superior to that of the large stores.
"When traditional retailers talk about customer service, they're talking about hiring lots of people to sell you things," she says. "We want to transform the customer experience around retail.
Most of the interactions in the store are service interactions."
Of course, not all small retail success stories are attributable to new types of businesses that are breaking the mold.
Steve Kizel, whose grandfather founded Central Watch, located in the East 45th Street passage at Grand Central Station, says that "business is going very well because what we're doing is a little unique."
His small shop sells and repairs vintage and high-end timepieces. He admits that watch repair "has been a dying art over the last several years," but notes that as other craftsmen drop out of the business, demand for service is at an all-time high. "Seventy percent of our business is walk-in, and 30 percent is on the wholesale level" as other shops farm out repair work to him.
"We do a handful of stuff online. I'm about to start a YouTube project. [Watch repair] is a dying art so the next step is getting out a visual on what we do."
But although he is optimistic about the future, he says he is less than enthusiastic about his daughters, age 13 and 14, eventually taking up the reins in the store, which natural sunlight never reaches. "My older daughter is coming in two days a week but I hope she has better brains than her father."